The Mentor2Success program is a collaboration between Pueblo Department of Social Services (DSS), Pueblo District Dependency and Neglect Shelter Court, and the Friendly Harbor. DSS clients with substance issues are referred to the Friendly Harbor for peer recovery coach services. Our peer recovery coaches provide confidential mentoring designed to promote participants' success in wellness and recovery.
Referrals for AcuDetox, (if needed)
Anxiety & Depression
Double Trouble in Recovery (DTR), a 12-step program for those with both substance and mental health issues
Mental Wellness groups for those with Bipolar Disorder, Schizophrenia, Depression, Post-traumatic Stress Disorder and others
Coping Skills
Family Support
Philosophy Circle
Recovery Skill Building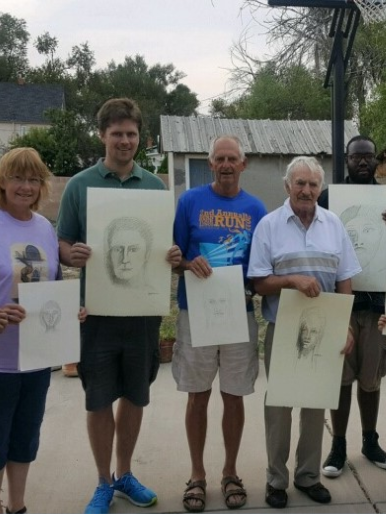 We are truly an organization who cares. Whether you are needing some face-to-face support, wanting to network with others in similar situations, or just needing a night of fun and entertainment with the art class, or dinner socials, we promise you a welcoming environment to fulfill your needs.
Check our online calendar for activity dates and times.
*Note: We are not equipped to directly serve children under the age of 18.  Children are welcome, but only when directly supervised by an adult. 
When it can be done safely, the Mentor2Success Program supports reunification of children with parents in recovery. The Friendly Harbor Mentor2Success's mission is to help parents get a solid footing on the pathway to such recovery and overcoming their personal obstacles to being good parents. Such obstacles may include use of substances and mental health concerns. The Friendly Harbor provides Peer Recovery Coaching by trained individuals with lived experience and recovery from issues similar to persons referred to the Mentor2Success Program. Our Peer Recovery Coaches offer a non-judgmental ear, confidential problem-solving discussions, and emotional support as clients of DSS tackle difficult issues. Services are free to the client. Information shared by clients is not shared with DSS or the Court. Peer Recovery Coach services are meant to be a stepping stone to more permanent supports with resources in the community, including membership at the Friendly Harbor.
Friendly Harbor has always worked to maintain positive connections and partnerships with local organizations that have similar interests in the well-being of those with mental health and substance use issues.  We have gratefully received financial support from Mental Health America, Health Solutions, and Pueblo Community Health Center. We have had collaborative projects with NAMI, Pueblo Department of Social Services, Pueblo Problem-Solving Court, and the Sangre de Cristo Arts and Conference Center. 
For those with mental health and substance conditions, and their families and other significant others, the Friendly Harbor Community Center (Friendly Harbor) provides a positive atmosphere for growth, encourages empowerment and self-reliance through peer support, advocacy, and role modeling, and provides opportunities to connect with other people who have faced similar problems. Friendly Harbor is not a treatment facility. Our Peer Specialists model the skills used to recognize and manage symptoms and build a satisfying, meaningful life. Their lived experience is a powerful complement to mental health services, but it is not treatment. 
There are many different mental disorders, with different presentations.  
Mental disorders include: depression, bipolar affective disorder, schizophrenia and other psychoses, anxiety disorders, post-traumatic stress disorder, dementia, intellectual disabilities and developmental disorders including autism. 
There are effective strategies for preventing mental disorders such as depression and there are effective treatments for mental disorders and ways to alleviate the suffering caused by them. 
Access to health care and social services capable of providing treatment and social support is key. 
Emotional Support
A Non-Judgmental Ear
Help with Complex System Navigation
Referrals
Resource Book
Educational Materials
Life & Family Guidance
Phone Encouragement
Face-to-Face Mentoring Support
Support Groups